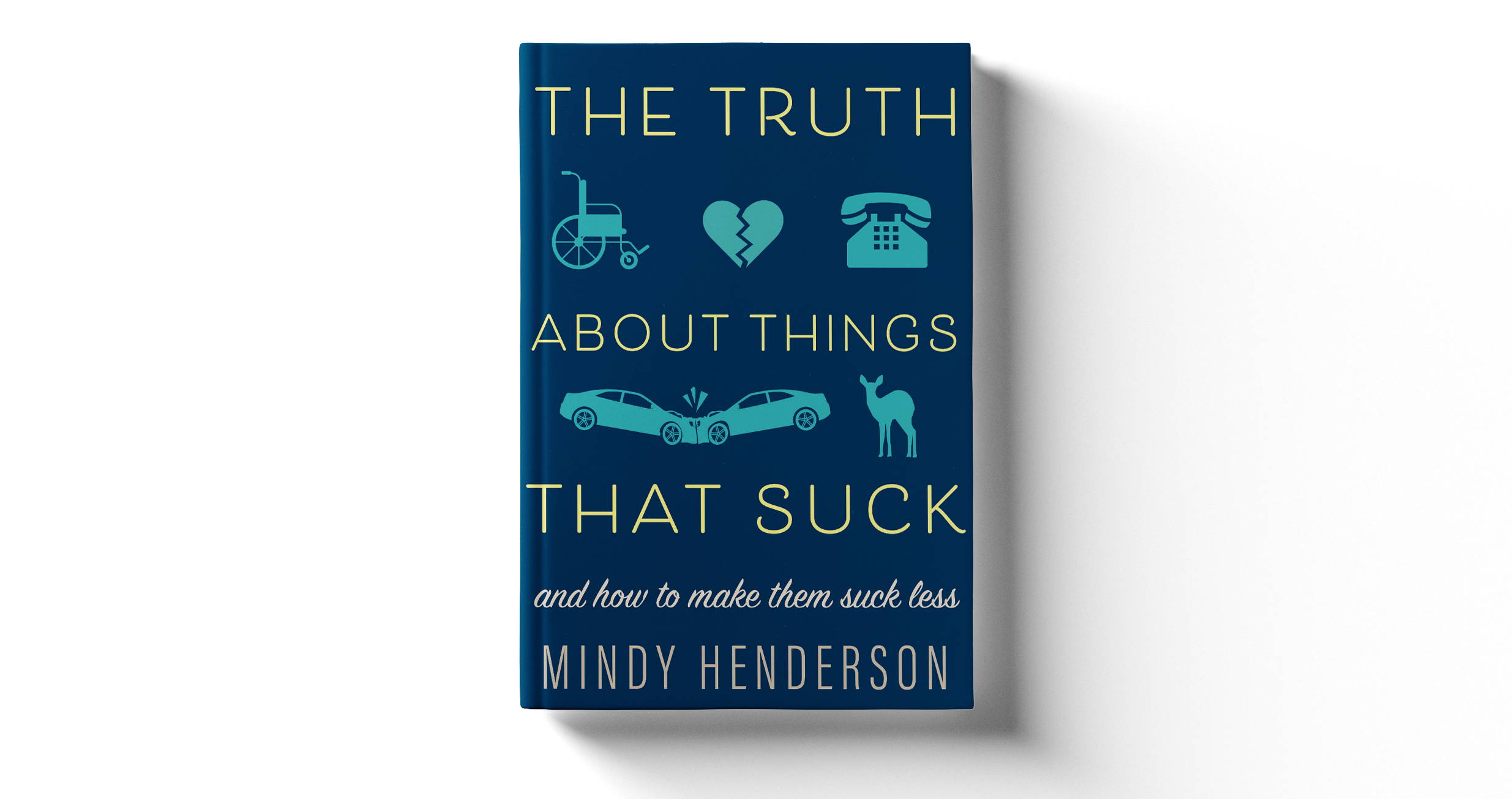 The Truth About Things That Suck (and How to Make Them Suck Less) is a book of wit and wisdom that encourages readers who are currently struggling to overcome an obstacle, or preparing to face one down the road.
It's a book about what's possible, what's attainable, supported by scientific research and interviews with psychologists, New York Times best-selling authors, and other experts. Mindy Henderson brings the enthusiasm of her podcast to every page of this book, inspiring readers to overpower their so-called limitations.
We Are Austin Morning Show In her new book, inspirational Mindy Henderson reveals "The Truth About Things That Suck"CLICK HERE TO VIEW
Rise Together Podcast with Dave HollisBeing Scared Is Ok - with Mindy HendersonCLICK HERE TO VIEW
Changing Minds and Changing Lives with Disability Solutions CLICK HERE TO VIEW
Recommended read on "Women Writers, Women's Books" CLICK HERE TO VIEW
Guest writer on "Women Writers, Women's Books"QUIT ISN'T A WRITER'S WORD: How I Stayed on the Path to Publication and you can, too! CLICK HERE TO VIEW
Coming May 8 - LIVE INTERVIEW on "A Mighty Blaze" in conversation with CAROLINE LEAVITTCLICK HERE TO TUNE IN
Coming June 18 - Austin woman magazine's Thrive event
I will be there selling and signing books!
"In her honest and heartfelt memoir, Mindy Henderson will fill your heart with equal parts resolve, empowerment, and positivity. Mindy's book proves that blessings in disguise are all around us — regardless of what form adversity may take. We all experience different challenges and Henderson's triumphs over job loss, loneliness, shame, and failure are a universal story of victory over adversity that we all face in navigating life."
Scott Jeffrey Miller, Wall Street Journal Bestselling Author and Host of the World's Largest Leadership Podcast On Leadership with Scott Miller
"Ignorance leads directly away from bliss. In this book Henderson helps the reader navigate the important first step of realistically assessing the challenges in the present but without succumbing to apathy and cynicism. As she outlines in the book, it is only by recognizing that we are not alone and by having hope that our behavior will eventually matter will we find a viable and positive path forward."
Shawn Achor, NYTimes bestselling author of Big Potential
"Facing disability, failure, and disappointment from an early age, Mindy Henderson decides life's challenges can suck but that she won't let them hold her back or keep her down. Filled with real life adversity, THE TRUTH ABOUT THINGS THAT SUCK is a book for anyone who wants to see that hope and kindness are all around us despite hardships and loneliness. We can all learn from Mindy Henderson's 'try anyway' philosophy and make our lives suck less."
Dave Hollis, NY Times Best Selling Author and host of the Rise Together podcast